IV Ketamine Infusions Can Help Chronic Pain
---
Ketamine can be used to treat all of the following chronic pain conditions:
Complex Regional Pain Syndrome (CRPS)/Reflex Sympathetic Dystrophy Syndrome (RSD)
Neuropathic Pain
Fibromyalgia
Migraines
Cluster Headaches
Phantom Limb Pain
Multiple Sclerosis (MS)
Rheumatoid Arthritis (RA)
Postherpetic Neuralgia
Opioid-Induced Hyperalgesia
Trigeminal Neuralgia
Ehlers Danlos (EDS)
Chronic Neck Pain
Lower Back Pain
Connective Tissue Disorders
---
About Ketamine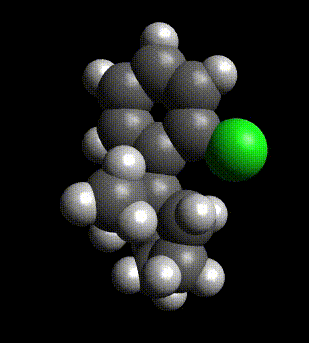 Image by: Surströmming98, Licensed CC BY-SA 3.0, via Wikimedia Commons
Ketamine is an anesthetic medication first approved by the US Food and Drug Administration in 1970. It boasts a wide margin of safety, tending to preserve respiratory and cardiovascular function even at high doses. It even appears on the World Health Organization's "List of Essential Medicines" due to its safety and efficacy.
While Ketamine infusions for chronic pain disorders are still considered off-label uses of the medication by the FDA, evidence continues to mount for it's efficacy.
---
---
Frequently Asked Questions
Who Will Be Administering My Infusion?
At Lighthouse Infusions, you will always be treated by a licensed anesthesia provider from start to finish! We know that every person has their own unique physiology and reacts to medication differently, which is why we never take a cookie-cutter approach to patient care. Your provider will be able to modify your treatment depending on how your body reacts so that we may treat you most effectively and give you the best experience possible.
Where Will I Receive My Infusion?
Our goal is to deliver life-changing treatments with the utmost safety, but that doesn't mean we need to do it in an uncomfortable setting. At Lighthouse Infusions, you will always have a private, spa-like treatment room! Each treatment room features a comfortable recliner, diffuse lighting, and a variety of amenities available to help you relax during your infusion, including eye-masks, ear plugs, a white-noise machine, and seating for a friend or family member if you would like someone to accompany you during your infusion. Several of our infusion rooms even feature a stunning view overlooking Lake Washington!
How Long Will The Treatment Take?
Here at Lighthouse Infusions, we treat you as a person, not as a protocol. As such, the length of your treatment will depend on the condition you are being treated for and how your body reacts to the medications, as well as your needs and preferences. We begin every appointment by talking with you about how you are feeling, how you felt after your previous infusion, and any changes we can make to improve your experience. Because most infusions for chronic pain conditions involve larger dosages, your infusion will typically last around 4 hours. After your infusion is over, you will stay in the infusion room to rest for about an hour until the medications wear off and you are ready to go home. You can expect to be at the clinic for around 5-6 hours. Someone will need to be available to drive you home afterwards, but we don't require that they stay at the clinic the whole time.
How Will I Feel During The Infusion?
During the infusion, you will feel what some patients describe as "floaty". Although some patients enjoy the sensation, for others it can create a sense of anxiety. As skilled anesthesia providers, we have an array of medications available that we can use to help prevent or alleviate any unpleasant side effects you may experience during your infusion. Because of the higher doses and longer infusions required for pain conditions, we usually offer Propofol sedation for a more comfortable experience.
How Many Infusions Will I Need?
Because every person's physiology is unique, the number of ketamine infusions required before you experience relief can vary. Most pain conditions require higher doses for effective relief of symptoms. We typically recommend 3 infusions during the first week, 1 infusion two weeks later, and another infusion two weeks after that. Followup infusions will likely be required to prevent your symptoms from reoccurring.  You will fill out self assessment surveys to objectively monitor your progress, and help determine when you might need a follow up infusion. All treatment plans are customized based on your condition, severity of symptoms, how your body reacts to the medication, your preferences, as well as any scheduling concerns you may have, and will be modified to better suit your needs as you begin to experience relief.
How Effective is Ketamine for My Condition?
The efficacy of ketamine is highly variable depending on the condition and the individual, but ketamine has extremely high efficacy of around 70%-80% for most of the chronic pain conditions we treat. For many people with life-altering conditions, ketamine allows them to resume normal activities and reclaim their lives.
What Are The Risks?
While no medical treatment is without risks, the safety of ketamine has been well established since the FDA first approved it as an anesthetic over years ago. As an anesthesia provider with more than years of experience, Liana has a wealth of knowledge, and the skill necessary to administer your infusion in the safest manner possible. She will be the one starting your IV, and the person in the room with you, closely monitoring your condition throughout the treatment.
What Are The Alternatives?
Ketamine is highly effective for most people, but no treatment is 100% effective for every patient. While we specialize in safely administering an often life-changing medication, we are not set up to diagnose conditions or offer other treatments. We always recommend that patients continue to see their primary provider, and to explore all the treatment options available.
---
Referrals
Here at Lighthouse Infusions, we specialize in the effective treatment of mental health and chronic pain conditions through the use of IV ketamine infusions. By limiting our scope, we are able to focus on maintaining the highest safety standards, while at the same time providing the best possible experience for our patients. As anesthesia providers, our specialty is maintaining patient safety and comfort through the use of medications, making us uniquely well-suited to the task of administering ketamine infusions. We are not, however, set up to diagnosis health conditions. As such, we require either a referral from your current healthcare provider or documentation of the condition for which you are seeking treatment before your first infusion.
---
Cost, Insurance, and Financing
Cost
For a personalized, private ketamine infusion for chronic pain conditions, we charge a flat rate of $1200 per infusion. We accept cash, check, HSA, FSA, all major credit cards, as well as contactless payments such as Apple Pay, Samsung Pay, Google Wallet, Visa payWave, and MasterCard PayPass. Payment is required before each treatment.
As a "thank you" to those who have given so much, we are proud to offer a 15% discount for all active duty and retired military, as well as emergency first responders and healthcare professionals.
Insurance
At this time, we are not set up to bill your insurance company directly, however our Osmind platform allows you to easily submit your claim to insurance for possible reimbursement. At your appointment, we will provide you with a super-bill, and using the app on your phone, you will be able to easily submit your claim in just a few minutes. Every insurance company is different, but IV ketamine infusion therapy is becoming more widely accepted by insurers, and many will reimburse a significant amount. We encourage you to check with your insurance company ahead of time to see what they will cover.
Financing
Because we want to make this lifesaving treatment available to as many people as possible, we have partnered with Advanced Care Card to help you cover the up-front costs of IV ketamine therapy. They even offer several zero-interest options for people who qualify.